How to Check NIS Shortlisted Candidates Names for Documentation. Check out your shortlist here.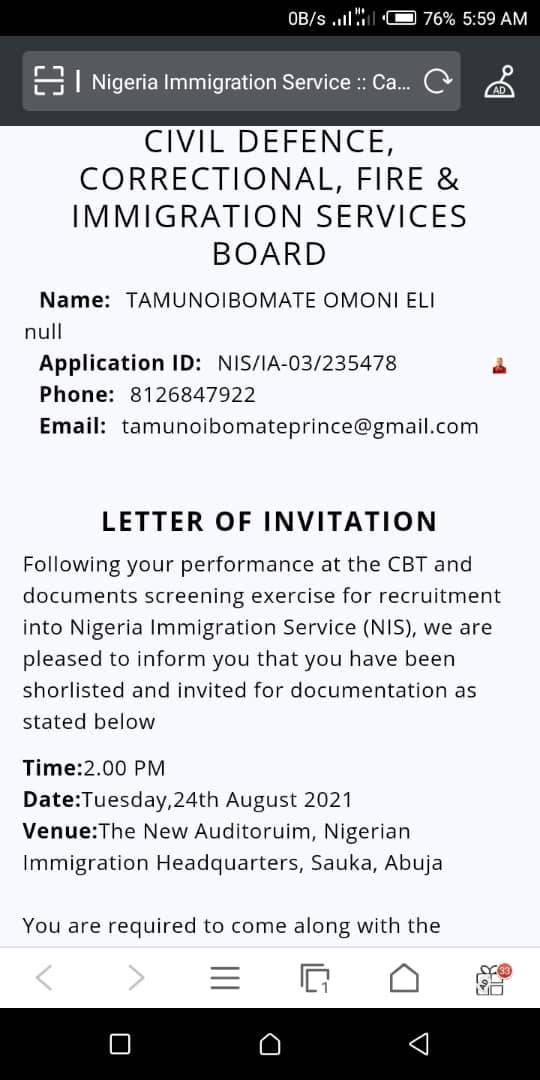 The Nigerian Immigration Service has shortlisted candidates for documentation following their performance at the CBT and a document screening exercise for recruitment into the Nigerian Immigration Service (NIS). The venue for this documentation exercise is the new auditorium, Nigerian Immigration Headquarters, Sauka, Abuja.
However, shortlisted candidates are required to come along with the following documents:
Printout of this letter of invitation
Printout of application confirmation slip with ID Number
Original of all relevant certificates, including indigene certificate and six (6) photocopies of the same documents
Six copies of normal size coloured passport photograph
Pen, pencil, eraser (cleaner) and Sharpener
Facemask
Note: All candidates are strictly warned to adhere to the date and time scheduled. Failure to do so may lead to disqualification.
How to Check NIS Shortlisted Candidates Names for Documentation
Login to the NIS portal at www.immigrationrecruitment.org.ng/
In the box provided, enter your login details (APPLICATION ID).
Check your selection status "SUBMIT".
Once shortlisted, your name will appear and you will receive an SMS or email regarding your selection.
Related are:
Final Note
Do you think this Nigerian Immigration Service Shortlisted Candidate post can be helpful to somebody else? Then, why not share it on Twitter, Facebook, WhatsApp or Email it to friends. Use the buttons below for the activity.
However, should you have any questions, please feel free to let us know in the comment box.