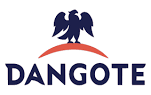 Dangote Group
The Dangote Group is a Multinational conglomerate company founded in 1981. It is among the largest conglomerate company in Africa. Electrical Engineer (Cement Industry) needed at Dangote Group.
JOB TITLE: Electrical Engineer (Cement Industry)
JOB LOCATION: Kogi
Job Type: Full time
JOB DETAILS:
We are looking for an electrical engineer who will help us advance our electrical products, systems, and applications.
On a daily basis, you'll carry out various engineering tasks, such as performing calculations to ensure our systems meet the global safety standards and collaborating with technicians and computer programmers to solve emerging issues.
You'll also research on manufacturing processes and analyze data and trends to create new products. Ultimately, you will improve our company's products and processes and contribute to its growth.
Responsibilities
Design, control, and implement electrical systems and products
Develop manufacturing processes according to global engineering codes and standards
Manage engineering projects and deliver them on time
Define customer needs and requirements
Ensure that installations and applications are in line with customer needs and safety standards
Collaborate with engineers and technicians to design and apply new system processes
Perform quality and performance analysis on new and legacy IT systems
Summarize data and report on test results
Examine needs on new equipment, calculate costs and help prepare budgets
Monitor maintenance and inspection plans
Requirements
A degree in Electrical Engineering; MSc is a plus
Proven expertise as an electrical engineer
Hands-on experience using design and calculation software
Deep knowledge of electrical manufacturing processes
Understanding of electrical engineering codes and safety standards
Problem-solving abilities
Attention to detail
Strong organizational and communication skills
Benefits
Private Health Insurance
Paid Time Off
Training & Development