This is the Best Format to write a Follow Up Email After Interview in 2021 to any interviewer.
So if you're looking for:
Step by step procedures of writing a short and sweet follow up email after interview.
How to give your follow up email a subject line
Successful follow up email samples
Then you'll love these Follow Up Email format After Interview in this page.
Let's get started.
Step by Step Procedure of Writing a Follow Up Email After Interview
#1: Define your Email Subject Line:
We all know that, before you send any formal mail you must fill in the the subject line of the mail. So, "follow up email after interview" is no exemption. As a well constructed subject line increases the your opportunity to get a response back from your interviewer.
#2: Greet you Interviewer:
You cannot write a follow up email after interview without greeting/recognizing your interview. For example: Start with Greetings Sir, Or Dear Mrs. Lizzy.
#3: Appreciate your Interviewer:
After you must have greeted your interviewer start your first paragraph by showing appreciation (i.e. saying, Thank You Sir/Madam) to your interviewer for giving you the opportunity to be interviewed.
#4: Discuss your Potentials:
When we say you should discuss your potentials we mean you should talk about your Achievements, experiences, interest and Desire relating it to how it can profit the company.
#5: Market Yourself:
By marketing yourself, I mean setting yourself apart from other candidates. i.e. telling the interviewer why you deserve the job better than any other candidates.
#6: Ask Questions about the Interview:
Asking questions concerning the interview (Like "when the final decision will be made") is a very smart move that may create relationship between you and the interviewer. This is because it will prompt your interviewer to write back to you as well as providing answers to your question.
Make sure you don't sound frustrated, No matter the time spent waiting for them, do not sound frustrated.
#6: Close your Email with your Signature and Contact Information:
If you write a follow-up email after interview no response without your signature and contact information, you're definitely kidding aren't you? Yes you are. Because, a formal mail must end with your signature and contact information.
When to Send a Follow Up Email After Interview
| | |
| --- | --- |
| Ist Interview | 24 hours after your first interview you can send a follow up email to express and express your gratitude. Because, it will show the interviewer your interest in the job. |
| 2nd and 3rd Interview | After 5 to 7 working days send a follow up email, so it won't seem like you are in a haste. |
The Best Format/Sample of Writing Short and Sweet Follow Up Email After Interview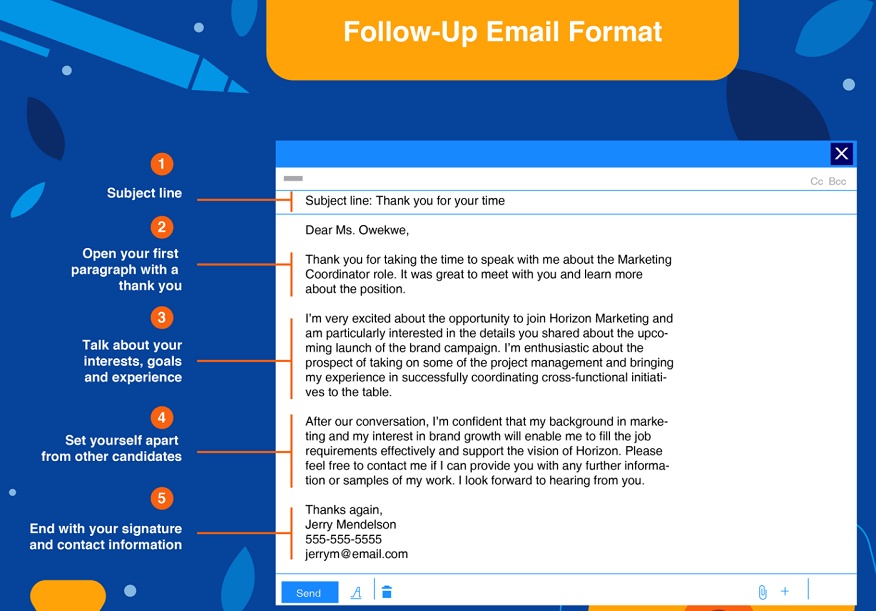 Related are:
Final Note
Do you think this Follow Up Email After Interview: The Best Format can be helpful to somebody else? Then, why not share it on Twitter, Facebook, WhatsApp or Email it to friends. Using the buttons below for the activity.
However, Do you have any question, Please, Feel Free to let us know at the comment box.